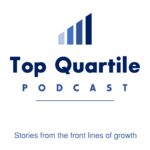 Tim Keith and Dan Marks provide an introduction and overview of the best practices to actually use Digital Marketing to drive tangible measurable growth. This overview comes from years of experience and analysis based on what does and doesn't work at banks and credit unions around the country. 
Highlights include: 
The Digital landscape and why First Party data matters so much.

 

How capacity and propensity inform targeting and awareness and engagement, and drive results.

 

How to practically orchestrate a true omni-channel growth strategy.

 

How Digital marketing drives measurable results across channels both online and in branch.

 

How real account tracking works across channels and devices in the crazy world of people using ad blockers and click blockers.

 

Expanding on the role digital and omni channel play to drive action along the entire lifecycle of the buying journey from Acquisition, to relationship expansion, to retention.

 

Practical tips to quickly get traction at whatever stage you are in, in a digital transformation.